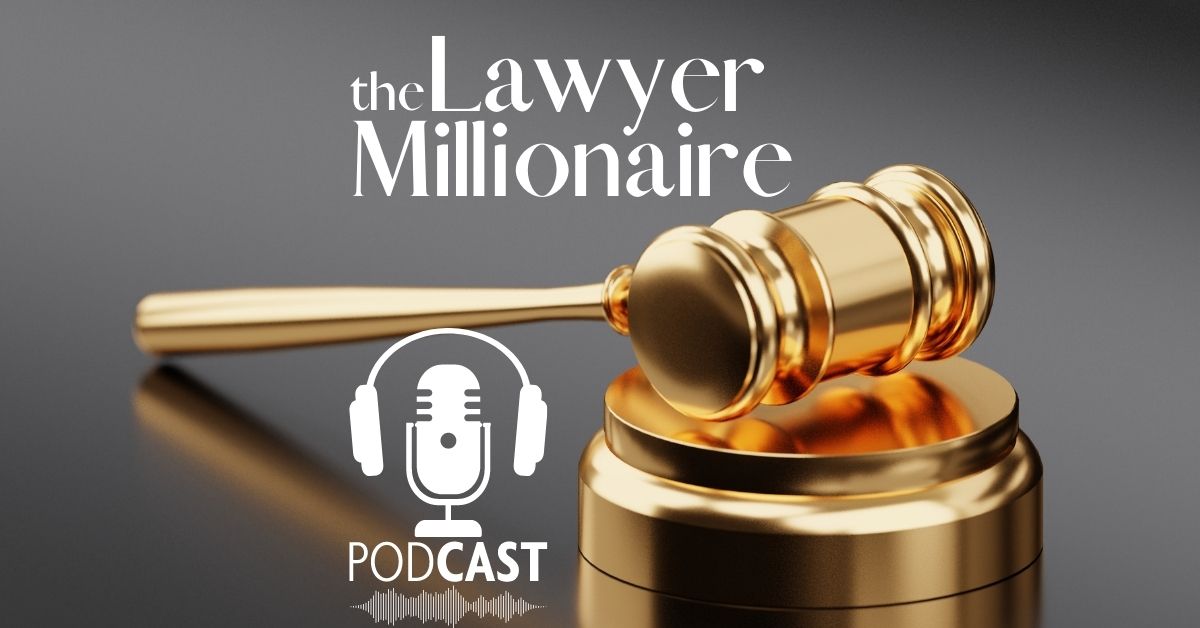 Rethinking the Business of Law: Unveiling the Secrets to Law Firm Success with James Crawford (Ep 26.)
Rethinking the Business of Law: Unveiling the Secrets to Law Firm Success with James Crawford (Ep 26.)
Are you a law firm owner looking to take your practice to new heights? Struggling to strike a balance between the practice of law and the business side of things? Look no further! In this eye-opening episode of The Lawyer Millionaire Podcast, host Darren Wurz sits down with James Crawford, a highly successful lawyer, to discuss the untapped potential within the legal industry. Prepare to rethink how law firms function and unlock the keys to maximizing services for clients.
In this episode, James Crawford, our guest, dives headfirst into the perennial challenge of running a law firm while shedding light on the positive and negative aspects of the old partnership model. James challenges the conventional notions by advocating for a results-driven approach that merges the worlds of law and business seamlessly. From sales techniques to system creation, this episode is a treasure trove of wisdom for law firm owners aiming to scale their practice.
In this episode, James discusses: 
The power of reframing legal services as a sale: Discover how viewing legal services as a sale instead of a mere consultation can enhance the client's understanding of the resolution process, leading to better outcomes for both parties involved.

The importance of the business side of law: Gain invaluable insights into striking a harmonious balance between the practice of law and financial considerations, ultimately driving success and growth for your law firm.

Mastering cash flow management: Learn how to anticipate and understand cash flow on a weekly basis, a skill crucial for law firm owners aiming to expand their practice and hire more lawyers.

Marketing techniques beyond personal injury law: Explore how innovative marketing strategies, including media outreach and sales conversations during consultations, can be applied to various areas of law, revolutionizing how law firms attract and retain clients.

Unshackling limiting beliefs: Discover the path to rising above mediocrity and reaching your desired level of success—an inspiring journey that requires sincere self-reflection and a willingness to challenge your own beliefs.

Don't miss out on this incredible opportunity to learn from one of the industry's foremost trailblazers.
Resources:
Connect with Darren Wurz:
Connect with James Crawford:
About our guest:
After law school, Mr. Crawford immediately went into private practice in 1992 by opening a law office in Baltimore. At the time he was a young general practitioner who handled many different types of cases with a focus on criminal law. Gradually, over the years he established himself as a premier practitioner in the State of Maryland. In order to accomplish his mission of practicing law on an extremely high level, he realized that he must offer the type of services to the community that he would want if he needed legal representation himself. He gradually expanded the firm into the full-service law firm that exists today. Presently JC Law is viewed as a "go-to" firm for many Marylanders and businesses. With over seventeen lawyers and forty support staff, JC Law is well-equipped to take on any issue presented.
One of Mr. Crawford's passions has always been politics. He comes from a family that believed service to the community and being involved in political life was a fundamental requirement as a productive member of society. Mr. Crawford's political career ranges from being noted as one of the youngest elected officials in the State's history to handling and running many state, local and judicial campaigns. Since entering private practice Mr. Crawford has handled many notable cases that appeared in the media. The type of clients he represents ranges from ordinary citizens to police officers, professional athletes, lawyers, doctors, politicians, and other persons of notoriety.
Jim is highly regarded by his clients, peers, and the judiciary. It is, without doubt, undisputed that to obtain a successful result you need a zealous and relentless trial lawyer. That's Jim. He has also put his fingerprints on the firm as to how each lawyer represents their clients.
Podcast: Play in new window | Download | Embed