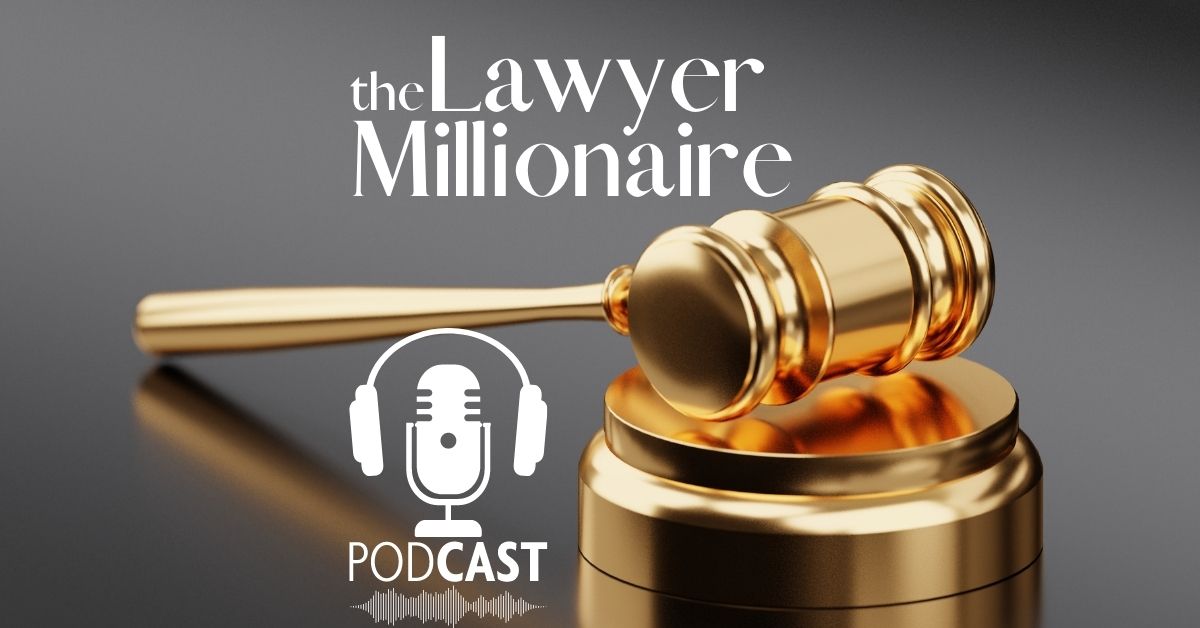 Succession Planning Series, Part 4: Creating a Pathway to Partnership with Camille Stell (Ep. 23)
Succession Planning Series, Part 4: Creating a Pathway to Partnership with Camille Stell (Ep. 23)
As a law firm owner, staying ahead of the curve is crucial to the success of your practice. In a rapidly changing legal landscape, embracing modern technology, addressing succession planning, and creating clear pathways to partnership are essential to attracting the next generation of lawyers. In this episode of The Lawyer Millionaire Podcast, join host Darren Wurz and guest Camille Stell as they dive into the importance of time and billing software, navigating partnership transitions, and creating a forward-thinking law firm. Get ready to unlock the secrets to a thriving and sustainable practice.
In this captivating episode, Darren Wurz engages Camille Stell in a thought-provoking discussion on modernizing law firms and ensuring a prosperous future. From harnessing the full potential of time and billing software to strategically planning for partnership transitions, Camille offers valuable insights and actionable strategies.
Key takeaways from this episode:
Discover the negative impact of inefficient time and billing practices and embrace the potential of software solutions.

Understand the vital importance of creating a clear path to partnership for your associates, attracting the next generation of lawyers to your firm.

Navigate the complexities of succession planning, including the challenges of unexpected disruptions and the advantage of exploring multiple options.

Learn how to elegantly approach conversations about firm ownership, nurturing an environment that aligns with the aspirations of your associates.

Embrace the power of modernization by investing in technology, engaging your team in the decision-making process, and making your law firm more attractive to potential successors.
Are you a law firm owner seeking ways to modernize and ensure long-term success? Don't miss out on this insightful episode of The Lawyer Millionaire Podcast. Tune in now to gain valuable knowledge and practical strategies that will help you navigate the complexities of time and billing software utilization, partnership pathways, and seamless succession planning. Your firm's future is within reach. Listen today!
Remember, the key to a thriving law practice lies in adapting to change, embracing technology, and actively planning for the future. Don't miss out on this opportunity to unlock the secrets to running a successful law firm. Listen to the episode now and take your firm to new heights.
Resources:
Connect with Darren Wurz:

Connect with Camille Stell:
About our Camille:
What does it take to create a first-of-its-kind consulting company that helps law firms evolve and thrive? For Camille Stell, it took years of helping lawyers navigate the most difficult challenges of their professional lives.
Camille is the founder, president and CEO of Lawyers Mutual Consulting & Services. She is a nationally recognized speaker, writer and thought leader on building modern law firms, succession planning, and Life After Law. She counsels law firms on next-level solutions, and she coaches individual lawyers on real-time problems.
After graduating from Meredith College and its paralegal program, Camille worked at top law firms in North Carolina and managed Client Services for the state's largest legal malpractice insurance provider. She has chaired the Law Practice Management Section of the North Carolina Bar Association and the Legal Marketing Association Raleigh City Group. She has served on the North Carolina State Bar Committee to Study Regulatory Reform, the Duke Law Tech Lab Advisory Group, and the North Carolina Pro Bono Resource Center Advisory Board.
Camille is a Fellow in the College of Law Practice Management. She was honored by the Triangle Business Journal with its 2016 "Women in Business" award and by North Carolina Lawyers Weekly in its 2011 inaugural class of "Leaders in the Law." In the process of winning these and many other accolades, Camille gained a unique perspective into why some lawyers thrive while others merely survive. She discovered that successful careers don't just happen. They have to be created. A happy, fulfilling Life After Law doesn't simply materialize from thin air. It has to be designed. Learn more at www.lawyersmutualconsulting.com
Podcast: Play in new window | Download | Embed